AutoVision 2013 – A remarcable edition with a record number of entries
The 11th edition of the AutoVision Festival registered a record number of entries (308) and participating countries (16). The creative productions were evaluated in June 2013 by an international jury and the winners were awarded on September 11th on the occasion of the International Motor Show (IAA) in Frankfurt am Main, Germany. The Awards Ceremony welcomed more than 160 professionals in advertising, PR, film and multimedia production and automotive industry.
The Grand Prix for the classical linear audiovisual communication went to "MINI NEXT FAMILY" by Storz & Escherich for BMW. While the Grand Prix for Interactive & Multimedia was awarded to the game "B-Side Stories" by Markenfilm Crossing and Jung von Matt/Alster for Daimler. In total there were awarded 22 OttoCars in Gold, 42 in Silver and 6 Black Trophies in the Production Arts & Crafts categories.
The Awards Ceremony was organized by Filmservice International with the kind support of the VDA, the German Association of the Automotive Industry. Photos of the festivity can be found here.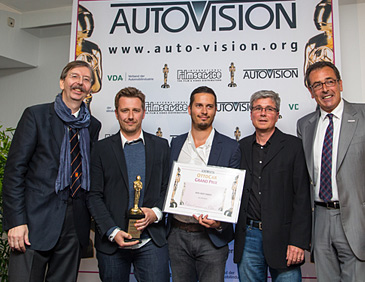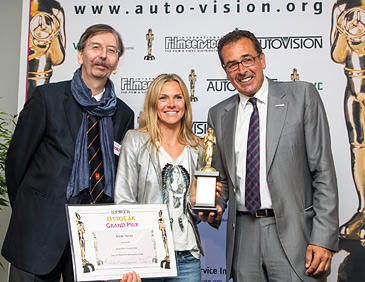 Grand Prix Classic: MINI NEXT FAMILY
Alexander V. Kammel (Festival Director), Roy Escherich u. Matthias Storz (Storz & Escherich GmbH & Co. KG), Rolf Weber (BMW Group), Helmut Kluger (Automobilwoche)
Grand Prix Multimedia: B-Side Stories
Alexander V. Kammel (Festival Director), Christine-Marie Gardeweg (Markenfilm Crossing), Helmut Kluger (Automobilwoche)